Please help keep our community healthy.
Please do not enter the Township offices/buildings if you are experiencing any of the following:
Fever
Cough
Shortness of breath
Other cold or flu-like symptoms
For all guests and employees, a mask is required to be worn while in building. There is a limit of two (2) people in lobby at any given time. Before coming in, make sure there are not already two (2) people in the lobby. If there are, please wait outside until someone exits. Upon entering building, immediately use the hand sanitizer next to each Plexiglas barrier. Please sign in with your name and phone number, in addition to a self-monitoring check sheet.
We all have a role to play in protecting our community from contagious illnesses, including potentially COVID-19. Please consider the steps of frequently handwashing, avoiding touching your face, and staying home when you are sick in order to help stop the spread of illness.
Please visit http://www.windsortownship.com for Windsor Charter Township updates and our Policy Preparedness and Response Plan for COVID-19.
Please feel free to contact our staff via phone or email.
Supervisor Kern Slucter ph. 517-648-3528 supervisor@windsortownship.com
Clerk Lisa Rumsey ph. 517-646-0772 clerk@windsortownship.com
Treasurer Sue Fritts ph. 517-646-0772 treasurer@windsortownship.com
Assessor Peter Preston ph. 517-646-0040 windsorassessor@gmail.com
Social Distancing
Employees and township guests shall comply with social distancing standards defined by the Centers for Disease Control and Prevention ("CDC"). The CDC defines "social distancing" to mean keeping space between yourself and other people outside your home. Employees are required to stay at least six (6) feet away from other people and shall not gather in groups where social distancing standards cannot be satisfied.
---
For the latest news and information related to COVID-19 in Michigan
please follow the State of Michigan's response by visiting: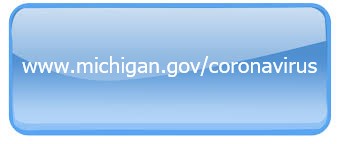 When visiting the state's Coronavirus response webpage, visitors can use "Robin," a new automated online assistant to easily access the latest information about the COVID-19 pandemic. As part of MDHHS's "Stay Home, Stay Well" initiative, a crisis text line is now available, allowing a confidential text conversation with a crisis counselor, simply by texting the keyword RESTORE to 741741.
---
WINDSOR CHARTER TOWNSHIP
EATON COUNTY, MICHIGAN
NOTICE OF REGULAR PLANNING COMMISSION MEETING
AND PUBLIC HEARING ON REQUEST FOR CHANGE OF ZONING
TO BE HELD ELECTRONICALLY
TO: THE RESIDENTS AND PROPERTY OWNERS OF THE CHARTER TOWNSHIP OF WINDSOR, EATON COUNTY, MICHIGAN, AND ALL OTHER INTERESTED PERSONS:
Please take notice that a regular meeting/public hearing of the Windsor Township Planning Commission will be held on July 8, 2020 at 7:00 p.m. by electronic remote access for the purpose of consideration of issues specified in the attached agenda.
Electronic remote access, in accordance with the Michigan Governor's Executive Order 2020-129, will be implemented in response to COVID-19 social distancing requirements and Michigan Governor's Executive Order 2020-110. The public may participate in the meeting/public hearing through GoToMeeting access by computer, tablet or smartphone using the following link:
https://global.gotomeeting.com/join/896202253
The public may also participate by calling into the telephone number below:
+1 (669) 224-3412 (Long distance charges may apply)
Access Code: 896-202-253
New to GoToMeeting? Get the app now and be ready when your first meeting starts:
https://global.gotomeeting.com/install/896202253
Members of the public will only be able to speak during the public hearing and public comment portions of the meeting/public hearing and such comments will be limited to three minutes per person during each opportunity to speak. To provide for orderly public participation a person wishing to speak must state their name and address, then request to be recognized by the Planning Commission Chairperson. The Chairperson will recognize all persons wishing to speak during the public hearing and public comment. If, prior to the meeting/public hearing, members of the public have certain questions or wish to provide input on any business that will be addressed at the meeting/public hearing then such persons may contact the Planning Commissioners through Lisa Rumsey, Windsor Charter Township Clerk, by email to clerk@windsortownship.com, or by mail at 405 W. Jefferson St, Dimondale, MI 48821. A copy of the meeting material may be found on links on the Township's homepage at www.windsortownship.com.
Windsor Township will provide necessary reasonable auxiliary aids and services at the meeting to individuals with disabilities upon 72 hours advanced notice to the Township. Individuals with disabilities requiring auxiliary aids or services should contact the Township Clerk by email, phone, or mail at the below.
Lisa A. Rumsey
Windsor Township Clerk
405 W. Jefferson St
Dimondale, MI 48821
Phone: (517) 646-0772
Email: clerk@windsortownship.com
---
Summer Tax Bill Deferment/ Delayed Payment
Summer taxes can be deferred on your principal residence until February 15, 2021. To qualify, household income cannot exceed $40,000 for the preceding calendar year, and one of the following must be met:
– 62 years or older
– Paraplegic
– Eligible Service Person, Eligible Veteran, or their Eligible Widow/Widower
– Totally and permanently disabled
A form must be completed and filed before September 15, 2021. If you defer your summer taxes, they will be due and payable on February 15, 2021. To request a form contact Sue Fritts, Windsor Charter Township Treasurer, at 405 W. Jefferson, Dimondale, MI, phone 517-646-0772, or email treasurer@windsortownship.com. Applications also available on line www.windsortownship.com.
---
It's not too late to Shape your Future.

Take ten minutes to fill out the Census today. The Census count will shape Michigan's social infrastructure for the next decade. If you need assistance completing the 2020 Census questionnaire, please call toll-free 1-844-330-2020. To fill out the 2020 Census online visit: http://my2020census.gov/.
An accurate Census count is critical as it determines how much funding Michigan communities will receive for essential services through 2030 such as police, fire departments, health care, education, roads and infrastructure.

---
Dimondale/Windsor Wastewater Treatment Plant
Message to all sewer customers:
"Flushable wipes clog pipes"
The Dimondale/Windsor Wastewater Treatment Plant would like to remind all of our users that sanitary products labeled "Flushable" are not flushable at all.  It is a marketing term and they could cause damage to your sewer pipe and ours.  We realize that toilet paper may be in short supply in some areas, but we remind you that anything other than toilet paper does not disintegrate.  As a result, it could cause a blockage in your line.
Example of items that will clog your pipes:
Wet wipes/baby wipes
Cotton swaps (Q-tips)
Condoms
Facial cleansing pads (makeup removing wipes)
Cigarette butts
Feminine products
Cat litter
In an effort to reduce maintenance costs and potential damage to the sewer system and your home, please do not flush any of the above items.  Remember, just because it will flush doesn't mean its safe to do so.
Kern Slucter, Township Supervisor
Ralph Reznick, P.E., Village President
Dimondale/Windsor WWTP * 136 N. Bridge St. * P.O. Box 26 * Dimondale, MI  48821 * 517-646-0230
---
---
---
SUPERVISOR
Kern Slucter
Office Hours:
Tuesday 9am – 1pm
Thursday Noon – 6:00
and by appointment
Address:
300 W. Jefferson Dimondale, MI 48821
Phone:
(517) 648-3528
Email:
supervisor@windsortownship.com
ASSESSOR
Peter Preston
Office Hours:
Tuesday
9:00 – 4:00 &
Other Hours by appt.
Address:
300 W. Jefferson Dimondale, MI 48821
Phone:
(517) 646-0040
Email:
windsorassessor@gmail.com
TREASURER
Sue Fritts
Office Hours:
Monday – Friday
9:00am – 4:00pm
Address:
405 W. Jefferson Dimondale, MI 48821
Phone:
(517) 646-0772
Fax:
(517) 646-7061
CLERK
Lisa Rumsey
Office Hours:
Monday – Friday
9:00am – 4:00pm
Address:
405 W. Jefferson Dimondale, MI 48821
Phone:
(517) 646-0772
Fax:
(517) 646-7061
Email:
clerk@windsortownship.com
Emergency Services
Address:
Building 300 W. Jefferson Dimondale, MI 48821
Phone:
(517) 646-0893