WINDSOR CHARTER TOWNSHIP
EATON COUNTY, MICHIGAN
NOTICE OF REGULAR MEETING FOR BOARD OF TRUSTEES
TO BE JOINTLY HELD ELECTRONICALLY AND IN-PERSON
TO:      THE RESIDENTS AND PROPERTY OWNERS OF THE CHARTER TOWNSHIP OF WINDSOR, EATON COUNTY, MICHIGAN, AND ALL OTHER INTERESTED PARTIES:
Please take notice that a regular meeting of the Windsor Township Board of Trustees will be held on October 27, 2020 starting at 7:30 p.m. by joint electronic remote access and in-person attendance at the Windsor Charter Township Offices, 300 W. Jefferson, Dimondale, MI 48821.
Electronic remote access will be implemented in response to and to limit the impact of COVID-19. To limit the spread of COVID-19, the Township encourages the public participate in the meeting through GoToMeeting access by computer, tablet, smartphone, or telephone using the following:
Meeting Link: https://www.gotomeet.me/WilliamFabijancic/windsor-charter-township-board-of-trustees-meeti-2
Access Code: 400-352-805
OR
Via telephone by calling:  +1 (224) 501-3412 (Long distance charges may apply)
New to GoToMeeting? Get the app now and be ready when your first meeting starts:
https://global.gotomeeting.com/install/400352805
Participate Responsibilities:
When connecting to the virtual meeting, please sign-in with your name.
As a courtesy to all and to reduce background noise, please mute yourself after you have signed in.
Only unmute when asked or recognized from the chair, remember you are limited to three (3) minutes.
When speaking, please identify your name, speak slowly, do not shout, pause when waiting for a response and be aware of noises in the background.
Do NOT interrupt others that are speaking.
Do NOT carry on side conversations or chats.
Please remember that if you continue to activate your microphone or there is a need to repeatedly mute you, the Chair of the meeting may remove you from the meeting.
Members of the public will only be able to speak during the public comment portions of the meeting and such comments will be limited to three minutes per person. To provide for orderly public participation a person wishing to speak must state their name and address, then request to be recognized by the Supervisor. The Supervisor will recognize all persons wishing to speak during the public comment. If, prior to the meeting, members of the public have certain questions or wish to provide input on any business that will be addressed at the meeting then such persons may contact the Township Board members through Lisa Rumsey, Windsor Charter Township Clerk, by email to clerk@windsortownship.com, or by mail at 405 W. Jefferson St, Dimondale, MI  48821.  A copy of the meeting material may be found on links on the Township's homepage at www.windsortownship.com.
The Township will provide necessary reasonable auxiliary aids and services to individuals with disabilities at the meeting upon 72 hours advanced notice by contacting Lisa Rumsey, Township Clerk, by email, phone or mail at the below.
Lisa A. Rumsey, Windsor Township Clerk
405 W. Jefferson St, Dimondale, MI  48821
Phone: (517) 646-0772
Email:  clerk@windsortownship.com
---
VOTER INFORMATION
To check on your voter information, please visit

"

michigan.gov/vote

",

click on "Your voter information".  You have two (2) ways you can search for your voter information, either by name or by license.  Once you choose which way you want to search, it will bring you to a screen with the following voter information: 1) Whether you are registered to vote. 2) View your sample ballot. 3) Absentee ballot information, such as whether your application was received, your ballot was sent or it your ballot has been received. 4) Your polling location. 5) Information on your clerk. 6) You can sign up to be on the permanent absentee ballot application list.  7) View voting district information. 
Please come to the township office (405 W. Jefferson, Dimondale, MI  48821) if you would like to vote early.   We will get you set up with an absentee voter ballot and you may either take it home with you or vote it at the township office. 

Voting Precincts are only open election day.

  If you need additional information, don't hesitate to contact the clerks office at 517-646-0772 or email clerk@windsortownship.com.
---
NOTICE OF ELECTION
TUESDAY, NOVEMBER 3, 2020
WINDSOR CHARTER TOWNSHIP
EATON COUNTY, MICHIGAN
To the Qualified Electors of WindsoR CHARTER TOWNSHIP, EATON COUNTY, STATE OF MICHIGAN: NOTICE IS HEREBY GIVEN that a general election will be held on Tuesday, November 3, 2020.  THE POLLS WILL BE OPEN FROM 7:00 A.M. to 8:00 P.M.
PLEASE TAKE NOTICE that the following will be submitted to the electors at this election:
Democratic Party, Republican Party, Libertarian Party, US Taxpayers Party, Working Class Party, Green Party, and Natural Law Party, and the and candidates without political party affiliation who seek election to the following partisan offices are to be voted for in Eaton County: Electors of President and Vice-President of the United States, United States Senator, Representative in Congress, Representative in State Legislature 71st District, Member of the State Board of Education, Regent of the University of Michigan, Trustee of Michigan State University, Governor of Wayne State University, Prosecutor, Sheriff, Clerk and Register of Deeds, Treasurer, Drain Commissioner, County Commissioner, and Township Offices.  Candidates seeking election to the following nonpartisan offices are also to be voted for in Eaton County at the November 3, 2020 General Election: Justice of the Supreme Court, Judge of Court of Appeals 3rd District, Judge of Court of Appeals 3rd District  Partial Term, Judge of Circuit Court 56th Circuit, Judge of District Court 54A (City of Lansing only), Judge of District Court 56A, Village Offices, School Board Member, Lansing Community College Trustee, Township Library Board Member.
PLEASE TAKE FURTHER NOTICE that the following proposals will appear on the ballot:
State Proposal 20-1
A proposed constitutional amendment to allow money from oil and gas mining on state-owned lands to continue to be collected in state funds for land protection and creation and maintenance of parks, nature areas, and public recreation facilities; and to describe how money in those state funds can be spent
State Proposal 20-2
A proposed constitutional amendment to require a search warrant in order to access a person's electronic data or electronic communications
EATON COUNTY TRANSPORTATION AUTHORITY (EATRAN) MILLAGE RENEWAL AUTHORIZATION QUESTION
Shall the County of Eaton levy a millage in an amount not to exceed $0.25 on each $1,000 dollars of taxable value for a period of five (5) years, 2022 to 2026 inclusive for the purpose of providing funds for the exclusive use of public transportation purposes, to include accommodation for the elderly and handicapped by the Eaton County Transportation Authority (EATRAN).
A small portion of the revenue collected may be required to be distributed to Downtown Development Authorities, Tax Increment Financing Authorities, Local Development Financing Authorities and Brownfield Redevelopment Financing Authorities established in cities of Charlotte, Eaton Rapids, Grand Ledge, Potterville & Village of Bellevue.
Full text of the ballot proposal may be obtained at the Eaton County Clerk's Office, 1045 Independence Boulevard, Charlotte, Michigan 48813, telephone (517) 543-2426 or on-line at eatoncounty.org on the County Clerk's web page.
Charlotte Public Schools General Obligation Unlimited Tax Bond Proposal for Building and Site Purposes in the Amount of Not to Exceed $36,000,000
Full text of the ballot proposition may be obtained at the administrative offices of Charlotte Public Schools, 378 State Street, Charlotte, Michigan 48813-1797, telephone: (517) 541-5100.
Please take further notice that the bonds of the school district, if approved by a majority vote of the electors at this election, will be general obligation unlimited tax bonds payable from general ad valorem taxes.
EATON RAPIDS PUBLIC SCHOOLS GENERAL OBLIGATION UNLIMITED TAX BOND PROPOSAL
FOR BUILDING AND SITE PURPOSES IN THE AMOUNT OF NOT TO EXCEED $45,175,000
Full text of the ballot proposition may be obtained at the administrative offices of Eaton Rapids Public Schools, 912 South Greyhound Drive, Eaton Rapids, Michigan 48827-2620, telephone: (616) 235-3535. PLEASE TAKE FURTHER NOTICE THAT THE BONDS OF THE SCHOOL DISTRICT, IF APPROVED BY A MAJORITY VOTE OF THE ELECTORS AT THIS ELECTION, WILL BE GENERAL OBLIGATION UNLIMITED TAX BONDS PAYABLE FROM GENERAL AD VALOREM TAXES.
Full text of the ballot proposals may be obtained at the Eaton County Clerk's Office, 1045 Independence Blvd., Charlotte, Michigan 48813, (517) 543-2488 or online at www.eatoncounty.org on the County Clerk's web page.
All electors who are registered with the township clerk in which they reside are eligible to vote at this election.
Sample ballots can be found at www.mi.gov/vote. To comply with the Help America Vote Act (HAVA),   voting instructions will be available in audio format and in Braille. Arrangements for obtaining the instructions in these alternative formats can be made by contacting the township clerk in advance of the election. All polling locations are accessible for voters with disabilities.
Registered voters may contact their local clerk to obtain an application for an absent voter ballot.  For any other questions relating to the election process, please contact your local clerk:
POLLING LOCATIONS:
Precinct 1
First Presbyterian Church, 162 N Bridge St, Dimondale 48821
Precinct 2
Emergency Services Bldg, 300 W Jefferson, Dimondale 48821
Precinct 3
Dimondale Elementary School, Oak St Entrance 300 Oak St, Dimondale 48821
This Notice is given pursuant to MCL 168.653a
LISA A RUMSEY
WINDSOR CHARTER TOWNSHIP CLERK
---
Please help keep our community healthy.
Please do not enter the Township offices/buildings if you are experiencing any of the following:
Fever
Cough
Shortness of breath
Other cold or flu-like symptoms
For all guests and employees, a mask is required to be worn while in building. There is a limit of two (2) people in lobby at any given time. Before coming in, make sure there are not already two (2) people in the lobby. If there are, please wait outside until someone exits. Upon entering building, immediately use the hand sanitizer next to each Plexiglas barrier. Please sign in with your name and phone number, in addition to a self-monitoring check sheet.
We all have a role to play in protecting our community from contagious illnesses, including potentially COVID-19. Please consider the steps of frequently handwashing, avoiding touching your face, and staying home when you are sick in order to help stop the spread of illness.
Please visit http://www.windsortownship.com for Windsor Charter Township updates and our Policy Preparedness and Response Plan for COVID-19.
Please feel free to contact our staff via phone or email.
Supervisor Kern Slucter ph. 517-648-3528 supervisor@windsortownship.com
Clerk Lisa Rumsey ph. 517-646-0772 clerk@windsortownship.com
Treasurer Sue Fritts ph. 517-646-0772 treasurer@windsortownship.com
Assessor Peter Preston ph. 517-646-0040 windsorassessor@gmail.com
Social Distancing
Employees and township guests shall comply with social distancing standards defined by the Centers for Disease Control and Prevention ("CDC"). The CDC defines "social distancing" to mean keeping space between yourself and other people outside your home. Employees are required to stay at least six (6) feet away from other people and shall not gather in groups where social distancing standards cannot be satisfied.
---
For the latest news and information related to COVID-19 in Michigan
please follow the State of Michigan's response by visiting: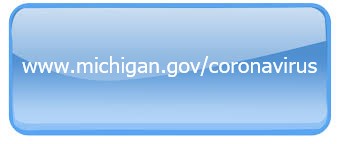 When visiting the state's Coronavirus response webpage, visitors can use "Robin," a new automated online assistant to easily access the latest information about the COVID-19 pandemic. As part of MDHHS's "Stay Home, Stay Well" initiative, a crisis text line is now available, allowing a confidential text conversation with a crisis counselor, simply by texting the keyword RESTORE to 741741.
---
SUPERVISOR
Kern Slucter
Office Hours:
Tuesday 9am – 1pm
Thursday Noon – 6:00
and by appointment
Address:
300 W. Jefferson Dimondale, MI 48821
Phone:
(517) 648-3528
Email:
supervisor@windsortownship.com
ASSESSOR
Peter Preston
Office Hours:
Tuesday
9:00 – 4:00 &
Other Hours by appt.
Address:
300 W. Jefferson Dimondale, MI 48821
Phone:
(517) 646-0040
Email:
windsorassessor@gmail.com
TREASURER
Sue Fritts
Office Hours:
Monday – Friday
9:00am – 4:00pm
Address:
405 W. Jefferson Dimondale, MI 48821
Phone:
(517) 646-0772
Fax:
(517) 646-7061
CLERK
Lisa Rumsey
Office Hours:
Monday – Friday
9:00am – 4:00pm
Address:
405 W. Jefferson Dimondale, MI 48821
Phone:
(517) 646-0772
Fax:
(517) 646-7061
Email:
clerk@windsortownship.com
Emergency Services
Address:
Building 300 W. Jefferson Dimondale, MI 48821
Phone:
(517) 646-0893