NOTICE OF REGISTRATION FOR THE
GENERAL ELECTION TO BE HELD ON
TUESDAY, NOVEMBER 3, 2020
EATON COUNTY, MICHIGAN
TO THE QUALIFIED ELECTORS of the Windsor Charter Township Eaton County, Michigan
PLEASE TAKE NOTICE that any qualified elector of Windsor Charter Township, County of Eaton, Michigan, who is not already registered, may register to vote online at www.mi.gov/vote, at the office of the Township Clerk; the office of the County Clerk; a Secretary of State branch office, or other designated state agency. Voters who are already registered may update their registration at www.expressSOS.com.
The last day for registering online, at the County Clerk's office or at a Secretary of State office will be Monday October 19, 2020.
After this date, anyone who qualifies as an elector may register to vote in person at their local clerk's office with proof of residency (MCL 168.492):
Municipality
Address
Regular Business Hours
Hours on

Saturday, October 31

Sunday, November 1

Hours on

Tuesday, November 3

Windsor Charter

Township

405 W. Jefferson

Dimondale, MI 48821

Monday – Friday

9 am – 4 pm

Saturday

9:00 am – 5:00 pm

7:00 am – 8:00 pm
PLEASE TAKE NOTICE that the following will be submitted to the electors at this election:
Republican Party, Democratic Party, Libertarian Party, US Taxpayers Party, Green Party, Natural Law Party, and the Working Class Party and candidates without political party affiliation who seek election to the following partisan offices are to be voted for in Eaton County: Electors of President and Vice-President of the United States, United States Senator, Representative in Congress, Representative in State Legislature 65th District (City of Eaton Rapids and Townships of Brookfield, Eaton and Hamlin), Representative in State Legislature 71st District (balance of Eaton County), Member of the State Board of Education, Regent of the University of Michigan, Trustee of Michigan State University, Governor of Wayne State University, Prosecutor, Sheriff, Clerk and Register of Deeds, Treasurer, Drain Commissioner, County Commissioner, and Township Offices.  Candidates seeking election to the following nonpartisan offices are also to be voted for in Eaton County at the November 8, 2016 General Election: Justice of the Supreme Court, Justice of the Supreme Court Partial Term, Judge of Court of Appeals 3rd District, Judge of District Court 54A (City of Lansing only), Judge of District Court 56A, City Council, Village Offices, School Board Member, Lansing Community College Trustee, District Library Board Member, Township Library Board Member.
PLEASE TAKE FURTHER NOTICE that the following proposals will appear on the ballot:
State Proposal 20-1
A proposed constitutional amendment to allow money from oil and gas mining on state-owned lands to continue to be collected in state funds for land protection and creation and maintenance of parks, nature areas, and public recreation facilities; and to describe how money in those state funds can be spent
State Proposal 20-2
A proposed constitutional amendment to require a search warrant in order to access a person's electronic data or electronic communications
EATON COUNTY TRANSPORTATION AUTHORITY (EATRAN) MILLAGE RENEWAL AUTHORIZATION QUESTION
For the purpose of providing funds for the exclusive use of public transportation purposes, to include accommodation for the elderly and handicapped by the Eaton County Transportation Authority (EATRAN), at the same millage level previously approved by the voters in 2012, shall the previously voted increase in the constitutional limitation upon the total amount of taxes which may be assessed in one (1) year upon all property within the County of Eaton, Michigan, be continued and renewed at up to 0.2500 of a mill ($0.25 on each $1,000 dollars of taxable value) for a period of five (5) years, 2022 to 2026, inclusive, and shall the County of Eaton be authorized to levy such millage for said purposes?
The estimate of the revenue for the County of Eaton in the 2022 calendar year is approximately $1,025,873.  A small portion of the revenue collected (approximately $11,875 in 2022) may be required to be distributed to Downtown Development Authorities, Tax Increment Financing Authorities, Local Development Financing Authorities and Brownfield Redevelopment Financing Authorities established in cities of Charlotte, Eaton Rapids, Grand Ledge, Potterville & Village of Bellevue.
Charlotte Public Schools General Obligation Unlimited Tax Bond Proposal for Building and Site Purposes in the Amount of Not to Exceed $36,000,000
Full text of the ballot proposition may be obtained at the administrative offices of Charlotte Public Schools, 378 State Street, Charlotte, Michigan 48813-1797, telephone: (517) 541-5100.
Please take further notice that the bonds of the school district, if approved by a majority vote of the electors at this election, will be general obligation unlimited tax bonds payable from general ad valorem taxes.
EATON RAPIDS PUBLIC SCHOOLS GENERAL OBLIGATION UNLIMITED TAX BOND PROPOSAL
FOR BUILDING AND SITE PURPOSES IN THE AMOUNT OF NOT TO EXCEED $45,175,000
Full text of the ballot proposition may be obtained at the administrative offices of Eaton Rapids Public Schools, 912 South Greyhound Drive, Eaton Rapids, Michigan 48827-2620, telephone: (616) 235-3535. PLEASE TAKE FURTHER NOTICE THAT THE BONDS OF THE SCHOOL DISTRICT, IF APPROVED BY A MAJORITY VOTE OF THE ELECTORS AT THIS ELECTION, WILL BE GENERAL OBLIGATION UNLIMITED TAX BONDS PAYABLE FROM GENERAL AD VALOREM TAXES.
Sample ballots may be viewed at www.mi.gov/vote or at your local clerk's office.
ABSENT VOTER BALLOTS
Any registered voter may request an Absent Voter Ballot.  No reason required.
Your township or city clerk's office must have a signed application to issue an Absent Voter Ballot. Applications are available at the locations referenced in the above table or by visiting https://mvic.sos.state.mi.us/.
Monday, November 2, 2020 at 4:00 pm is the deadline to request an absentee ballot except for those who register to vote on Election Day. Ballots issued on Monday, November 2, 2020 must be requested and voted in person at the township.
Those registering to vote on Election Day, Tuesday, November 3, 2020, are eligible to receive an absent voter ballot at the township or city clerk's office, locations referenced in the above table.
MONDAY, OCTOBER 19 2020
LAST DAY FOR VOTER REGISTRATION OTHER THAN IN-PERSON
Persons with special needs as defined by the Americans with Disabilities Act should contact the appropriate clerk's office, or call the Michigan Relay Center TDD # 1-800-649-3777
LISA A. RUMSEY
WINDSOR CHARTER TOWNSHIP CLERK
---
ELECTION/VOTING INFORMATION
1. In a primary election, you must vote straight party.
2. There IS a difference between mail-in voting and absentee voting. Before November 2018, Michigan voters could vote absentee but needed to provide a reason (age, disability, out-of-town, etc.) to obtain an absentee ballot. Proposal 18-3, which passed, allowed voters to obtain an absentee ballot without providing a reason. Agree with it or not, it was passed by the voters. Not by the Secretary of State or the Governor…it was passed by the VOTERS. There are five states that have mail-in voting and Michigan is not one of them…neither is Florida in case you were wondering. In a mail-in state, once a person registers to vote then they are automatically sent a ballot for every election.
3. In Michigan you MUST complete a ballot APPLICATION in order to receive a ballot. NO ONE in the State of Michigan is automatically sent a ballot without requesting one.
4. Every jurisdiction in Michigan has the ability to maintain a permanent absentee voter (AV) list. This list is made up of those voters who have indicated that they want to automatically receive a ballot APPLICATION for every election. Our office sent ballot applications to those voters. Secretary of State Benson then sent ballot applications (NOT BALLOTS!) to all registered voters that were not on our permanent AV list. This was done to encourage voters to vote absentee instead of in-person to help stop the spread of Covid. This worked. In Windsor Township, our number of absentee ballots substantially increased because of Secretary Benson's initiative. As a result, there was a low turnout at the polls. This satisfied those who were hesitant to vote in-person due to Covid, and also satisfied those who wanted to vote in person.
5. Is it safe to still mail your absentee ballot? EXTREMELY!!  The post offices are working hard to ensure your ballot reaches us by Election Day. This has been proven because I have received ballots that postmasters have personally delivered to our office on Election Day to ensure your vote counts. I encourage you to support the post office more by sending payments, letters, etc. or else it may be a thing of the past and we certainly don't want that to happen. If you still don't feel comfortable, we have a ballot dropbox along the sidewalk leading to the township office and as always, ballots can be brought inside. You can even request, vote and turn in your ballot in our office. This way your ballot never leaves our office.
6. If the signature on the ballot application or ballot, does not match, it will be rejected. You will be contacted (provided you gave us this information) and will be asked to stop by the township office to provide a signature sample. This is to prevent fraud.
7. YOU DO NOT HAVE TO VOTE FOR EVERY SINGLE RACE ON A BALLOT! Many voters do not know this. You can vote for whatever you choose. You can actually even submit a blank ballot. Not sure why anyone would, but it is allowed. You just can't cross-vote on a primary ballot. Sorry, that's the law. Again, I didn't create that. Do your homework before you vote. An educated vote is the best vote.
8. For the presidential primary election in March 2020, a voter had to choose either a democratic, republican or non-partisan ballot. It's not so that we can find out what party you associate with. Honestly, we don't care. Michigan is not a state that requires you to declare a party when you register to vote. Again, that is what the election law requires for a presidential primary election.
9. Now let me talk about absentee ballot counting. An Absentee Voter Counting Board (AVCB) CANNOT count ballots prior to the open of polls at 7 am under the current law. Also, they stay until the job is complete. The AVCB is sequestered in a room with the ballots that we have received, verified, bundled and sealed in a ballot transport container. Once they arrive, they cannot leave until after the close of polls at 8 pm. In smaller elections, they arrive later in the day so that they don't have to be there all day. If they finish early, they cannot leave until after 8 pm. They cannot have cellphones. This is so that they cannot communicate any results to the outside. They can step out to use the restroom, in case you were wondering. They cannot leave for lunch. They verify that there is a signature on the envelope (keep in mind that we already verified it against what is in the system). They open the envelope and pull out the ballot which is contained in the secrecy sleeve. They verify that the ballot number matches to what is on the envelope. Sometimes members of the same household put them in the wrong envelopes by mistake. Once verification is complete, the ballots are then put into the tabulator. If there is an over vote, a cross vote, or stray marks, they cast the ballot as it is. There is nothing that can be done at this point. If the ballot needs to be duplicated, two workers of differing political parties work together to duplicate the ballot. One worker reads the ballot, while the other fills in the circles.  Duplication may be necessary when the ballot contains false "overvotes", cannot be scanned by tabulator due to voter's use of an improper marking tool, contain corrections, contain false "crossover" votes, is an electronic MOVE ballot or is a Federal Write-In Absentee Ballot (FWAB).
10. An eligible person can register to vote all the way up to 8 pm on Election Day. However, only newly registered voters or emergency ballots can be issued from our office on Election Day. A voter can only obtain an absentee ballot up until 4 pm on the day before the election. Up to and including the Saturday before an election, you may take an absentee ballot out of the office. If receiving a ballot on the Monday prior to an election, you must complete the absentee ballot in the office (Absentee ballots CANNOT leave the office the day before an election).
11. Photo ID is not required to vote. This allowed under current election law. Voters not in possession of ID at the polls sign the back of the application to vote which is the affidavit stating that they are not in possession. We report these to the state after every election.
12. Before every election and before we even distribute ballots, we are required to perform testing on the tabulators and run sample ballots through. I am also required to perform a public accuracy test. Anyone can attend to view the process.
13. In order for any write-in votes to count, that candidate must be a registered write-in candidate for that election. If you write Mickey Mouse on your ballot, that doesn't count. Sorry, Mickey. You must try to write in as closely as possible the candidates correct name as to how they filed. For instance, if I file as Lisa Rumsey then close variations would count such as L. Rumsey, Lesa Rumsey, or Liza Rumsey but Lisa Wagner may not count because that wasn't the way that I filed.
14. Do not fill in a bubble on the ballot if there isn't anything written next to it!
If you have read all of this and still have questions please send me an email. I am happy to answer any questions you may have and I want all Michigan voters to be ensured that our elections are safe, secure and that the Bureau of Elections, Secretary of State and all clerks have put in a lot of work to uphold the integrity of elections.
Lisa A. Rumsey
Windsor Township Clerk
405 W. Jefferson St
Dimondale, MI 48821
Phone: (517) 646-0772
Email: clerk@windsortownship.com
---
Please help keep our community healthy.
Please do not enter the Township offices/buildings if you are experiencing any of the following:
Fever
Cough
Shortness of breath
Other cold or flu-like symptoms
For all guests and employees, a mask is required to be worn while in building. There is a limit of two (2) people in lobby at any given time. Before coming in, make sure there are not already two (2) people in the lobby. If there are, please wait outside until someone exits. Upon entering building, immediately use the hand sanitizer next to each Plexiglas barrier. Please sign in with your name and phone number, in addition to a self-monitoring check sheet.
We all have a role to play in protecting our community from contagious illnesses, including potentially COVID-19. Please consider the steps of frequently handwashing, avoiding touching your face, and staying home when you are sick in order to help stop the spread of illness.
Please visit http://www.windsortownship.com for Windsor Charter Township updates and our Policy Preparedness and Response Plan for COVID-19.
Please feel free to contact our staff via phone or email.
Supervisor Kern Slucter ph. 517-648-3528 supervisor@windsortownship.com
Clerk Lisa Rumsey ph. 517-646-0772 clerk@windsortownship.com
Treasurer Sue Fritts ph. 517-646-0772 treasurer@windsortownship.com
Assessor Peter Preston ph. 517-646-0040 windsorassessor@gmail.com
Social Distancing
Employees and township guests shall comply with social distancing standards defined by the Centers for Disease Control and Prevention ("CDC"). The CDC defines "social distancing" to mean keeping space between yourself and other people outside your home. Employees are required to stay at least six (6) feet away from other people and shall not gather in groups where social distancing standards cannot be satisfied.
---
For the latest news and information related to COVID-19 in Michigan
please follow the State of Michigan's response by visiting: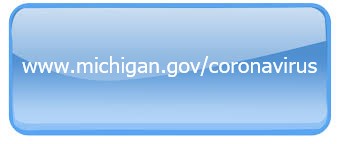 When visiting the state's Coronavirus response webpage, visitors can use "Robin," a new automated online assistant to easily access the latest information about the COVID-19 pandemic. As part of MDHHS's "Stay Home, Stay Well" initiative, a crisis text line is now available, allowing a confidential text conversation with a crisis counselor, simply by texting the keyword RESTORE to 741741.
---
Summer Tax Bill Deferment/ Delayed Payment
Summer taxes can be deferred on your principal residence until February 15, 2021. To qualify, household income cannot exceed $40,000 for the preceding calendar year, and one of the following must be met:
– 62 years or older
– Paraplegic
– Eligible Service Person, Eligible Veteran, or their Eligible Widow/Widower
– Totally and permanently disabled
A form must be completed and filed before September 15, 2021. If you defer your summer taxes, they will be due and payable on February 15, 2021. To request a form contact Sue Fritts, Windsor Charter Township Treasurer, at 405 W. Jefferson, Dimondale, MI, phone 517-646-0772, or email treasurer@windsortownship.com. Applications also available on line www.windsortownship.com.
---
Dimondale/Windsor Wastewater Treatment Plant
Message to all sewer customers:
"Flushable wipes clog pipes"
The Dimondale/Windsor Wastewater Treatment Plant would like to remind all of our users that sanitary products labeled "Flushable" are not flushable at all.  It is a marketing term and they could cause damage to your sewer pipe and ours.  We realize that toilet paper may be in short supply in some areas, but we remind you that anything other than toilet paper does not disintegrate.  As a result, it could cause a blockage in your line.
Example of items that will clog your pipes:
Wet wipes/baby wipes
Cotton swaps (Q-tips)
Condoms
Facial cleansing pads (makeup removing wipes)
Cigarette butts
Feminine products
Cat litter
In an effort to reduce maintenance costs and potential damage to the sewer system and your home, please do not flush any of the above items.  Remember, just because it will flush doesn't mean its safe to do so.
Kern Slucter, Township Supervisor
Ralph Reznick, P.E., Village President
Dimondale/Windsor WWTP * 136 N. Bridge St. * P.O. Box 26 * Dimondale, MI  48821 * 517-646-0230
---
---
SUPERVISOR
Kern Slucter
Office Hours:
Tuesday 9am – 1pm
Thursday Noon – 6:00
and by appointment
Address:
300 W. Jefferson Dimondale, MI 48821
Phone:
(517) 648-3528
Email:
supervisor@windsortownship.com
ASSESSOR
Peter Preston
Office Hours:
Tuesday
9:00 – 4:00 &
Other Hours by appt.
Address:
300 W. Jefferson Dimondale, MI 48821
Phone:
(517) 646-0040
Email:
windsorassessor@gmail.com
TREASURER
Sue Fritts
Office Hours:
Monday – Friday
9:00am – 4:00pm
Address:
405 W. Jefferson Dimondale, MI 48821
Phone:
(517) 646-0772
Fax:
(517) 646-7061
CLERK
Lisa Rumsey
Office Hours:
Monday – Friday
9:00am – 4:00pm
Address:
405 W. Jefferson Dimondale, MI 48821
Phone:
(517) 646-0772
Fax:
(517) 646-7061
Email:
clerk@windsortownship.com
Emergency Services
Address:
Building 300 W. Jefferson Dimondale, MI 48821
Phone:
(517) 646-0893