NOTICE OF ELECTION
WINDSOR CHARTER TOWNSHIP, MICHIGAN
TUESDAY, MAY 4, 2021 SPECIAL ELECTION
To the Qualified Electors of Windsor Charter Township, Eaton County, Michigan:
NOTICE is hereby given that the special election will be held in Windsor Charter Township on Tuesday, May 4, 2021. The polls will be open from 7:00 a.m. to 8:00 p.m.
For the purpose of voting on the following proposals:
WAVERLY COMMUNITY SCHOOLS
GENERAL OBLIGATION UNLIMITED TAX BOND PROPOSAL FOR BUILDING AND
SITE PURPOSES IN THE AMOUNT OF NOT TO EXCEED $125,000,000
Full text of the ballot proposition may be obtained at the administrative offices of Waverly Community Schools, 515 Snow road, Lansing, MI  48917-4502, telephone: (517) 321-7265.
Please take further notice that the bonds of the school district, if approved by a majority vote of the electors at this election, will be general obligation unlimited tax bonds payable from general ad valorem taxes.
HOLT PUBLIC SCHOOLS
GENERAL OBLIGATION UNLIMITED TAX BOND PROPOSAL FOR BUILDING AND
SITE PURPOSES IN THE AMOUNT OF NOT TO EXCEED $148,000,000
Full text of the ballot proposition may be obtained at the administrative offices of Holt Public Schools, 5780 W. Holt Road, Holt, Michigan 48842-1197, and telephone: (517) 694-0401.
PLEASE TAKE FURTHER NOTICE THAT THE BONDS OF THE SCHOOL DISTRICT, IF APPROVED BY A MAJORITY VOTE OF THE ELECTORS AT THIS ELECTION, WILL BE GENERAL OBLIGATION UNLIMITED TAX BONDS PAYABLE FROM GENERAL AD VALOREM TAXES.
Sample ballots can be found at www.mi.gov/vote. To comply with the Help America Vote Act (HAVA), voting instructions will be available in audio format and in Braille. Arrangements for obtaining the instructions in these alternative formats can be made by contacting the township clerk in advance of the election. All polling locations are accessible for voters with disabilities.
Registered voters may contact the clerk to obtain an application for an absent voter ballot.  For any other questions relating to the election process, please contact the clerk:
| | | |
| --- | --- | --- |
| POLLING LOCATIONS: For this Special Election only: |   |   |
| WINDSOR CHARTER TOWNSHIP | Precinct 1, 2 & 3 | Emergency Services Bldg, 300 W Jefferson, Dimondale 48821 |
This Notice is given pursuant to MCL 168.653a
LISA A. RUMSEY
WINDSOR CHRTER TOWNSHIP CLERK
---
COVID-19 (Novel Coronavirus)
For information on the COVID-19 outbreak, including COVID-19 vaccine information, visit Barry Eaton County Health Department's

 

coronavirus page

. 

Fill out

 

this form

 

to schedule vaccination (if eligible) or to be contacted when vaccinations are available to your priority phase/group.
---
Please help keep our community healthy.
Please do not enter the Township offices/buildings if you are experiencing any of the following:
Fever
Cough
Shortness of breath
Other cold or flu-like symptoms
For all guests and employees, a mask is required to be worn while in building. There is a limit of two (2) people in lobby at any given time. Before coming in, make sure there are not already two (2) people in the lobby. If there are, please wait outside until someone exits. Upon entering building, immediately use the hand sanitizer next to each Plexiglas barrier. Please sign in with your name and phone number, in addition to a self-monitoring check sheet.
We all have a role to play in protecting our community from contagious illnesses, including potentially COVID-19. Please consider the steps of frequently handwashing, avoiding touching your face, and staying home when you are sick in order to help stop the spread of illness.
Please visit http://www.windsortownship.com for Windsor Charter Township updates and our Policy Preparedness and Response Plan for COVID-19.
Please feel free to contact our staff via phone or email.
Supervisor Kern Slucter ph. 517-648-3528 supervisor@windsortownship.com
Clerk Lisa Rumsey ph. 517-646-0772 clerk@windsortownship.com
Treasurer Sue Fritts ph. 517-646-0772 treasurer@windsortownship.com
Assessor Peter Preston ph. 517-646-0040 windsorassessor@gmail.com
Social Distancing
Employees and township guests shall comply with social distancing standards defined by the Centers for Disease Control and Prevention ("CDC"). The CDC defines "social distancing" to mean keeping space between yourself and other people outside your home. Employees are required to stay at least six (6) feet away from other people and shall not gather in groups where social distancing standards cannot be satisfied.
---
For the latest news and information related to COVID-19 in Michigan
please follow the State of Michigan's response by visiting: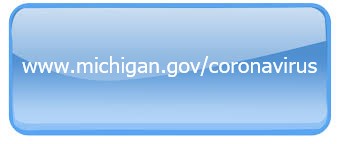 When visiting the state's Coronavirus response webpage, visitors can use "Robin," a new automated online assistant to easily access the latest information about the COVID-19 pandemic. As part of MDHHS's "Stay Home, Stay Well" initiative, a crisis text line is now available, allowing a confidential text conversation with a crisis counselor, simply by texting the keyword RESTORE to 741741.
---
SUPERVISOR
Kern Slucter
Office Hours:
Tuesday 9am – 1pm
Thursday Noon – 6:00
and by appointment
Address:
300 W. Jefferson Dimondale, MI 48821
Phone:
(517) 648-3528
Email:
supervisor@windsortownship.com
ASSESSOR
Peter Preston
Office Hours:
Tuesday
9:00 – 4:00 &
Other Hours by appt.
Address:
300 W. Jefferson Dimondale, MI 48821
Phone:
(517) 646-0040
Email:
windsorassessor@gmail.com
TREASURER
Sue Fritts
Office Hours:
Monday – Friday
9:00am – 4:00pm
Address:
405 W. Jefferson Dimondale, MI 48821
Phone:
(517) 646-0772
Fax:
(517) 646-7061
CLERK
Lisa Rumsey
Office Hours:
Monday – Friday
9:00am – 4:00pm
Address:
405 W. Jefferson Dimondale, MI 48821
Phone:
(517) 646-0772
Fax:
(517) 646-7061
Email:
clerk@windsortownship.com
Emergency Services
Address:
Building 300 W. Jefferson Dimondale, MI 48821
Phone:
(517) 646-0893