It's not too late to Shape your Future.

Take ten minutes to fill out the Census today. The Census count will shape Michigan's social infrastructure for the next decade. If you need assistance completing the 2020 Census questionnaire, please call toll-free 1-844-330-2020. To fill out the 2020 Census online visit: http://my2020census.gov/.
An accurate Census count is critical as it determines how much funding Michigan communities will receive for essential services through 2030 such as police, fire departments, health care, education, roads and infrastructure.

---
WINDSOR TOWNSHIP COVID-19 UPDATE
Following the State and Federal guidelines for preventing the spread of the Coronavirus (COVID-19) to protect the overall public health of our residents, families and staff, the offices of Windsor Charter Township will be open by appointment only until further notice.
You may reach the Clerk and Treasurer at 517-646-0772
clerk@windsortownship.com or treasurer@windsortownship.com
You may reach the Assessor at 517-646-0040
windsorassessor@gmail.com
You may reach the Supervisor at 517-648-3528
supervisor@windsortownship.com
---
For the latest news and information related to COVID-19 in Michigan
please follow the State of Michigan's response by visiting: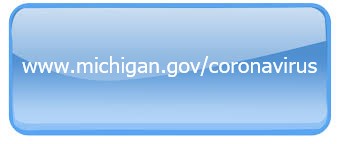 When visiting the state's Coronavirus response webpage, visitors can use "Robin," a new automated online assistant to easily access the latest information about the COVID-19 pandemic. As part of MDHHS's "Stay Home, Stay Well" initiative, a crisis text line is now available, allowing a confidential text conversation with a crisis counselor, simply by texting the keyword RESTORE to 741741.
---
Dimondale/Windsor Wastewater Treatment Plant
Message to all sewer customers:
"Flushable wipes clog pipes"
The Dimondale/Windsor Wastewater Treatment Plant would like to remind all of our users that sanitary products labeled "Flushable" are not flushable at all.  It is a marketing term and they could cause damage to your sewer pipe and ours.  We realize that toilet paper may be in short supply in some areas, but we remind you that anything other than toilet paper does not disintegrate.  As a result, it could cause a blockage in your line.
Example of items that will clog your pipes:
Wet wipes/baby wipes
Cotton swaps (Q-tips)
Condoms
Facial cleansing pads (makeup removing wipes)
Cigarette butts
Feminine products
Cat litter
In an effort to reduce maintenance costs and potential damage to the sewer system and your home, please do not flush any of the above items.  Remember, just because it will flush doesn't mean its safe to do so.
Kern Slucter, Township Supervisor
Ralph Reznick, P.E., Village President
Dimondale/Windsor WWTP * 136 N. Bridge St. * P.O. Box 26 * Dimondale, MI  48821 * 517-646-0230
---
---
---
SUPERVISOR
Kern Slucter
Office Hours:
Tuesday 9am – 1pm
Thursday Noon – 6:00
and by appointment
Address:
300 W. Jefferson Dimondale, MI 48821
Phone:
(517) 648-3528
Email:
supervisor@windsortownship.com
ASSESSOR
Peter Preston
Office Hours:
Tuesday
9:00 – 4:00 &
Other Hours by appt.
Address:
300 W. Jefferson Dimondale, MI 48821
Phone:
(517) 646-0040
Email:
windsorassessor@gmail.com
TREASURER
Sue Fritts
Office Hours:
Monday – Friday
9:00am – 4:00pm
Address:
405 W. Jefferson Dimondale, MI 48821
Phone:
(517) 646-0772
Fax:
(517) 646-7061
CLERK
Lisa Rumsey
Office Hours:
Monday – Friday
9:00am – 4:00pm
Address:
405 W. Jefferson Dimondale, MI 48821
Phone:
(517) 646-0772
Fax:
(517) 646-7061
Email:
clerk@windsortownship.com
Emergency Services
Address:
Building 300 W. Jefferson Dimondale, MI 48821
Phone:
(517) 646-0893